ELIZABETH PROUVOST (FRA) | KATHARSIS - LE JEU SECRET
Spotlight Suite [ 19. AUG 2017 – 07. JAN 2018 ]
"Katharsis – Le Jeu secret" ist der Titel der ersten Ausstellung in Deutschland der französischen Fotografin und Kamerafrau
Elizabeth Prouvost
. Als Kamerafrau arbeitet Prouvost mit vielen bedeutenden französischen Filmemacher(inne)n zusammen und hat als Fotografin zahlreiche Ausstellungen in ganz Frankreich erhalten. Prouvost (*1946) lebt und arbeitet in Paris.
Das Till Richter Museum ist geehrt, in der Spotlight Suite ihre erste Ausstellung in Deutschland zeigen zu dürfen. Wir präsentieren dabei 19 Werke aus ihrer Serie "L'Enfer", die auf dem Inferno von Dante Alighieri basieren, daher der Titel Katharsis, weil selbst in Dantes Inferno eine Läuterung möglich war, was uns in diesen Zeiten Hoffnung geben kann.
"L'Univers" ist eine Gruppe von vier großformatigen Fotografien auf Metall, die wir für diese Ausstellung produziert haben. Es geht dabei um die Vergänglichkeit und die Wiederentstehung des menschlichen Körpers, der ein Universum an sich ist. In den Werken von Prouvost verschmelzen Form und Unform: Le Jeu Secret.
Katharsis – Le Jeu Secret" is the title of the first German exhibition of the French photographer and camera director Elizabeth Prouvost. As a camera woman Prouvost works with many significant French filmmakers. As a photographer she looks back on numerous shows all over France. Prouvost (*1946) lives and works in Paris.
The Till Richter Museum is honoured to present her first exhibition in Germany in the Spotlight Suite. We will be showing 19 works from her series L'Enfer based on Dante's Inferno. Hence the title Katharsis since even in Dante's Inferno catharsis is possible, which can give us hope in these days.
L'Univers is a group of four large-scale photographs printed on metal specifically produced for this show. It treats the transience and recreation of the human body that represents a Universe per-se. The works of Prouvost fuse form and unform (or non-form) in a Jeu Secret.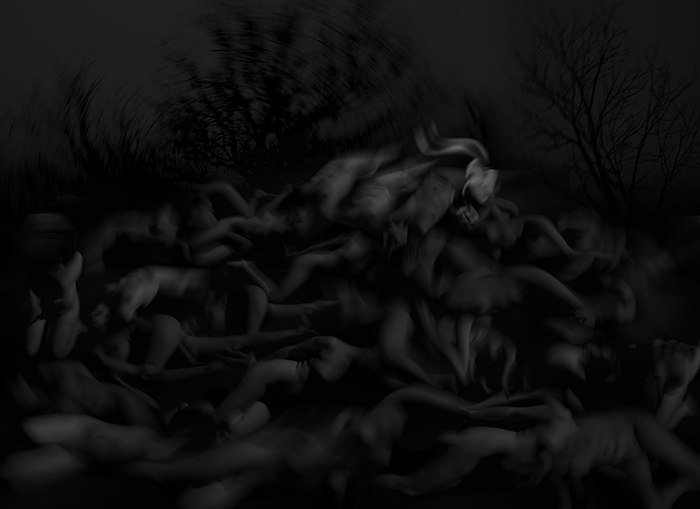 ELIZABETH PROUVOST · Enfer 7 · Photography