KAI BORSUTZKY | Trails - Pfade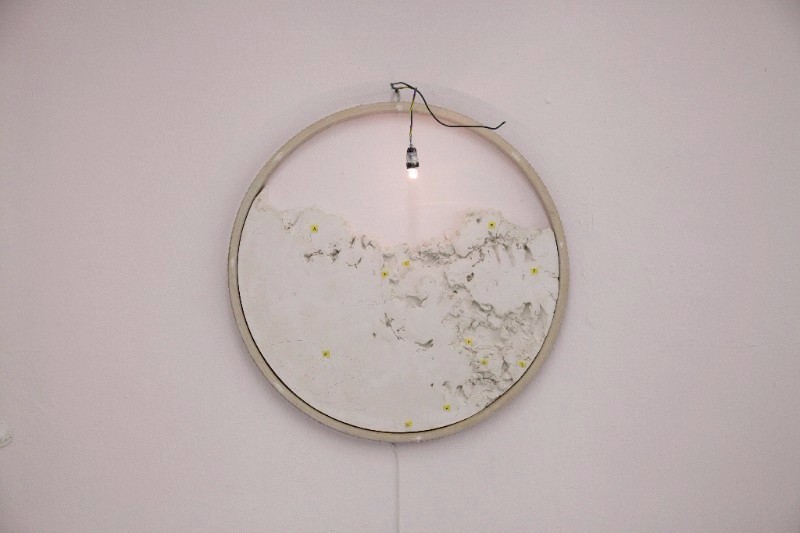 Kai Borsutzky (*1987, Essen, lebt und arbeitet in Essen und Düsseldorf) hat im Till Richter Museum seine erste Museumsausstellung. Borsutzky hat ein Studium in Visueller Kommunikation an der Folkwangschule in Essen absolviert und studiert jetzt an der Kunstakademie Düsseldorf.
Er ist Maler, Zeichner und Bildhauer. Er findet Spuren, hält sie fest und verwischt sie wieder. Er zeichnet gesehene Bilder in frischen Ton. Wenn die Zeichnung fertig ist, wird sie ganz oder teilweise mit dem Rakel glattgezogen, als wäre es ein Magic Eraser (Zaubertafel) Spielzeug. Dann folgt die nächste Zeichnung. Es ist eine fast archäologische Schichtung von sich überlagernden Spuren in der Vertikalen. Jede einzelne Zeichnung ist prinzipiell gegenständlich, aber in der Gesamtheit sind die Werke abstrakt. Der Pfad des Gesehenen wird vom Künstler aufgenommen, gegangen, notiert und zu einem neuen Weg, einer neuen Geschichte transformiert.
Dabei verwischt er nicht nur die Ansichten sondern auch die Grenzen zwischen Zeichnung, Malerei und Bildhauerei. Eine Zeichnung wird zur Plastik, die wieder übermalt wird oder in Silikon abgeformt eine neue Ebene erreicht.
Wir freuen uns sehr diesen äußerst vielversprechenden jungen Künstler in der Spotlight Suite als erstes Museum zu zeigen.
Kai Borsutzky (*1987, Essen, Germany, lives and works in Essen and Düsseldorf) is given his first museum exhibit at the Till Richter Museum. Borsutzky studied Visual Communication at the Folkwang School of Essen and now studies Fine Arts at the Kunstakademie Düsseldorf.
He is a painter, draftsman and sculptor. Searching for traces, he captures them and then blurs them again. He draws an image he has seen into fresh clay. Wenn the drawing is done, it is pulled down with a squeegee or a blade, similar to the principle of a Magic Eraser toy. Then the next drawing follows on the footsteps of the previous work into the same clay. We can almost speak of archeological strata of traces that are vertically layered. Each drawing is figurative in principle but the whole is practically abstract. The artist picks up the trail of what he sees, walks on that trail, takes notes and transforms these into a new trail, a new story.
Doing so, he not only wipes away the visual recognition of subject matter but also the boundaries between drawing, painting and sculpture. A drawing becomes a plastic, three-dimensional work, is painted over or is again transformed by being cast into silicone.
We are very glad to be the first museum showing this most promising young artist in our Spotlight Suite.