Oskar Rink | Meta-Krokette
Rising Stars Residency Artist 2018
Das Till Richter Museum ist stolz
Oskar Rink
(*1980, Leipzig) als fünfte
Rising Stars Residency
Künstlerin zu präsentieren.
Ihr Werk, Ölmalerei, Objekte und Installationen, ist materiell in seiner Erscheinung aber immateriell in seiner Essenz. Die abgebildeten oder gezeigten Gestalten und Dinge sind nicht nur als Anzeiger (signfier) von Objekten zu verstehen, sondern sollten auf einem metaphysischen, also immateriellen, Level von psychologischer Einbeziehung gesehen werden.
Rink greift dabei nicht zu psycho-analytischem Symbolismus. Ein Stuhl steht nicht einfach für den Wunsch nach einem sesshaften Leben. Stattdessen muss man sich den Kontext des Stuhls vor Augen führen. Streifen und Schatten denotieren Unordnung und Bewegung, doch die Art und Weise wie sie gemalt sind impliziert, dass eine Kontrolle über besagte Unordnung erreicht worden ist.
Diese Kontrolle bemerkt man folgerichtig in der elaborierten und exakten Ausführung ihrer Arbeiten. Die Perspektiven und Achsen, in ihren Installationen wie auch in den Malereien, sind abenteuerlich und dynamisch und doch wunderbar stabil. Es sind mentale Schnappschüsse collagierter und kombinierter Träume wie eine hermetisch kubistische Version von Giorgio De Chiricos Pittura Metafisica.
Der Maßstab wurde zerbröselt und trotzdem sind die Dinge niemals unproportioniert. Rinks Werk ist eine spielerische, nichtsdestotrotz zeitaufwendige, immaterieller und innerer Reaktionen auf äußere Impulse.
Die Künstlerin selbst sagt es am besten: " …fragile Sphären innerer Sicht einer äußeren Realität." So lädt uns die Kunst von Oskar Rink dazu ein, über die Verbindung und die Viabilität, unserer eigenen äußeren und inneren Welt nachzudenken, im Sinne des radikalen Konstruktivismus (Ernst von Glasersfeld).
Der Titel der Ausstellung ist: Meta-Krokette.
The Till Richter Museum is proud to have
Oskar Rink
(*1980, Leipzig) as our fifth
Rising Stars Residency
Artist.
Her work, consisting of oil painting, objects and installations, is material in appearance but immaterial in essence. The depicted or displayed shapes and things are not only to be understood as signifiers of objects but must be seen on a meta-physical, thus immaterial, level of psychological involvement. Rink does however not resort to psycho-analytical symbolism.
A chair does not simply represent the desire for a sedentary life. Instead the context of the chair should be taken into consideration. Stripes and shadows denote disorder and movement yet the way they are painted implies that control has been established over said disorder and movement. This control can also be detected in the elaborately exact execution of her works. Perspectives and angles, in her installations as well as in her painted work, are adventurous and dynamic but still miraculously stable.
They are like mental snapshots of collaged and combined dreams like a hermetic cubist version of Giorgio De Chirico's pittura metafisica. The sense of scale is shattered, still things are never out of proportion. Her work is a playful, nonetheless time-consuming, reflection of immaterial and interior reactions to exterior impulses.
The artist herself puts it best when she speaks of "fragiles sphere of inner vision of outer reality". Thus the art of Oskar Rink invites us to re-consider the connection and viability of our own exterior and interior world, in the sense of radical constructivism (Ernst von Glasersfeld).
Meta-Krokette is the exhibit's title.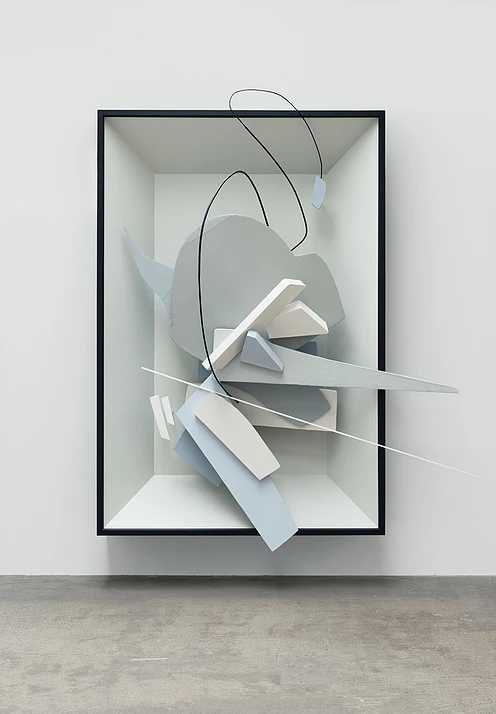 DADDY · 2016
paper, cardboard, wood, aluminium, acrylic and spray paint · 340 x 230 x 130 cm
Mono · 2018 oil on canvas · 240 x 190 cm
Streben und Conatus · 2014
Angeschnittener Akt & Plastik · 2017
Collaboration with MAX VON TREU c-print on aluminium dibond each 152,2 x 102,2 cm